Hello all! I'm very happy to be back with this week's project in the the Designer Spotlight at Simon Says Stamp Monday Challenge. It's an honour to be creating alongside the amazing SSS Design Team for the month of August, and this week's theme is a beauty.
The challenge is Midsummer Blues. It's another lengthy post, taking us through a whole midsummer day and night, so pack up your favourite beverage and maybe some snacks, ready for the moonlit forest path ahead!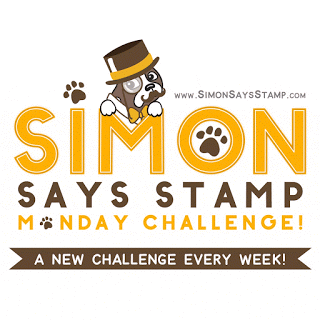 I honestly set out on this one with no very clear plan in mind. In the early stages of thinking I felt a bit stumped, but gradually two elements floating in my imagination started to merge and, without really knowing where I was going, this diptych is where I ended up.
The first of the imaginative prompts was A Midsummer Night's Dream. With my Shakespeare connections you can't say the word "midsummer" to me without that play popping into my head.
So that's where the fairy connection came from.
And I also had a thought about the summer solstice floating around... that midsummer date when day and night shade mystically into one another...
... so the idea of a double tag with day darkening into night was born. But the whole creative process took days to progress from that very early inspiration to the finished piece.
I thought I'd work with a pair of the Etcetera tags, so that their sturdiness would allow my diptych to stand tall. These are the size #8 tags, so the whole thing is just over six inches wide and six-and-a-half inches tall.
I knew things had to be blue to fulfil the challenge title, so having stuck some book script paper onto them, I dipped the tags into Stormy Sky and Chipped Sapphire Distress Inks, keeping the dark tones towards the bottom right and trying to leave the upper left as pale and light as possible.
Over that I positioned Tim Holtz's lovely Clockwork stencil and did some sponging of Midnight Fresco Finish Chalk Acrylic in the night time corner and Snowflake in the daylight regions.
In the play most of the action takes place in the forest, so I had to have some tangled branches.
This is a Hero Arts stamp, embossed in Wow Primary Bark. (SSS has lots of Wow embossing powders but not this earthy dark brown as far as I can see - I'd recommend it to them!)
Central to my thinking were the sun and the moon and these came courtesy of the glorious
Stars & Moons mould by Prima
.
The round moon is playing the role of the sun for me... we're all about the imagination and playing parts in the theatre here!
I didn't happen to have any Paperclay around, and I couldn't be bothered to get my Melt Pot out, so I thought I'd try melting some beeswax pellets directly into the moulds using my heat tool.
It worked, but from then on I had to keep reminding myself not to use the heat tool to dry anything anywhere near them, or they'd revert to being a puddle of wax!
A quick coat of gesso gave me a better idea of how they might look in the long run so that I could work on what else would be involved.
There were some straw fibres hanging around on the craft table and in an idle moment I tried out what they looked like behind the moulds... sold!
The wild tangles were perfect to echo the gnarled branches of the trees, as well as the twists and turns and chaos of the farcical knots of the play's plot.
From there things happened slowly over the next couple of days. I'd have an idea, try something out on the tags, leave it for a bit, come back to see if I liked it... if so then onwards, if not then back to the drawing board.
Two of the tiniest Paper Dolls put in an appearance as some of Titania's fairies.
Perhaps Peaseblossom or Mustard-Seed... or Cobweb. Whichever they are, they were allowed to stay (contrary to Titania's instruction: Fairies, skip hence!).
They have Transparent Wings to fly with, though I've made them slightly less transparent with some gesso.
The butterfly, however, still has his fully transparent wings, stapled over a punched lower layer for double dimension.
It's gorgeous how the acetate catches the light and gleams at certain angles.
The butterfly lights up the daytime...
... while the night is given a glimmer of extra light by the Idea-ology Mirrored Stars.
I love how they glisten and twinkle amidst the tree branches.
And there's even a morning star creeping over onto the daylight tag.
The light allows the plants of the forest to flourish, diecut from the Wildflower Thinlits and smooshed in various shades of green Distress Inks and Oxides.
Time to add a bit more detail to the Sun and the Moon, ready for their starring roles.
I used
Fresco Finish Chalk Acrylics by PaperArtsy
in Snowflake and Chalk to give a bit more opacity, and I brushed on Frayed Burlap Distress Ink for dimensional shading. Tiny touches of Midnight Fresco paint bring the eyes to life.
The moon is a strong presence in
A Midsummer Night's Dream...
as marker of time - they're waiting for the new moon to hold the royal wedding; as the light by which the fairies meet; and also as a character.
One of the Mechanicals or working men in the play actually plays the role of the moon in their play-within-a-play at the end.
This is Words and Pictures, so of course we need to have some words. These are fragments from the play text, handwritten with my dipping pen and some grey ink.
Tiny snippets of
Crochet Thinlits
decorate the phrases, and the daylight one is edged with Stormy Sky, while "night and silence" (yes, please!) has Chipped Sapphire shadows drawing in.
They're attached to the tags with hinge clips (as well as a bit of glue). Mine are non-branded old-gold versions of these Idea-ology Hinge Clips.
They've had a touch of
Mushroom Alcohol Ink
as well as catching the white spatter of glimmering stardust.
In A Midsummer Night's Dream all of the action takes place over about 24 hours, so the clocks, stencilled and ephemeral, are measuring the time ticking away.
The paper ones are from the Idea-ology Snippets and Ephemera packs, and you can still just see the shadows and highlights of the stencilled versions in the background.
Some scraps of Idea-ology Linen Ribbon top the tags off.
I like the rustic feel of it, especially when you loosen the weave a little - perfect for my woodland world.
Around the back, I've kept things very simple... who wants to spend time looking at the back of this diptych when there's a magical twilit forest to wander through on the other side?!
Just some woodgrain design paper, gently inked around the edges. Really it's mostly there to cover up the brown tape which provides the hinges for the diptych.
Having started out on this project by wandering around lost in the dark, I'm thrilled to have made my way to this enchanted world.
From night's darkest shadows...
... to the soft light of early dawn...
... and especially when you catch those glimmers and sparkles of light, this diptych makes my heart sing.
I hope you've enjoyed dreaming along with me, and that you'll be inspired to play along with the Midsummer Blues theme at the Simon Says Stamp Monday Challenge this week.
As always, there's amazing inspiration from the full-time team, who are looking forward to choosing their favourites, and the usual $50 voucher is on offer for one lucky winner to go shopping at Simon Says Stamp.
Thanks so much for stopping by today, and I hope you all have a magical week!
I have had a most rare vision. I have had a dream, past the wit of man to say what dream it was.
I know a bank where the wild thyme blows,
Where oxlips and the nodding violet grows,
Quite over-canopied with luscious woodbine,
With sweet musk-roses and with eglantine.
Ill met by moonlight, proud Titania.
Sleep thou, and I will wind thee in my arms. Fairies, be gone, and be all ways away.
Are you sure
That we are awake? It seems to me
That yet we sleep, we dream...
All from
A Midsummer Night's Dream
by William Shakespeare
I'd like to play along at Moo-Mania and More where they are having a Butterflies challenge
At Try It On Tuesday the theme is Wish You Were Here - I'd love to visit this enchanted forest!
At Country View Challenges they are looking for Texture this month
It's Anything Goes (as long as it's a tag of course!) over at Tag Tuesday
The More Mixed Media Challenge is an Anything Goes with optional Bright - I've got light rather than bright
And it's also Anything Mixed Media Goes at the Creative Artiste Challenge Blog