Gallimaufry - a confused jumble or medley of things, a hodgepodge
And that really is what I have for you today in this last of the trio of dollshouse posts, sharing the work I did in Small Worlds over the course of five weeks in the Czech Republic. I think there were just three days in the whole five weeks that I didn't go in to the museum (and one of those was spent working on Susanne's furniture back at the house).
Alongside the major overhauls of the Tudor Tavern and the Opera Singer's House, I worked on various bits and pieces for other houses, inside and out... Some of it was carrying on with work that didn't get done last year, some of it for projects Cestina was working on - deploying my stash of paints, mediums, inks, papers and dies in whatever direction was necessary.
So I hope you enjoy the gallimaufry!
Let's start in America, with the Cape Cod house.
This was one of last year's major overhauls (you can see it here in another gallimaufry, if you missed it), but some things were left undone.
Now the exterior is pretty much done, look!
The main thing on the outside was that I didn't manage to get round to replacing the windows.
As the eyes are the window to the soul, so a house without windows often looks a little lost and forlorn.
A little work with some fine squared dowelling, white paint and delicate glue work soon sorted that out.
And you'll notice the house now has a front door step too, making entry a little easier!
I decided to create my windows without any actual "glass" (it would've been acetate really). I think it looks fine from a distance with just the wood, and it means the opportunities for peeking in are much improved.
It's one of my favourite things to do with dollshouses... looking in through the windows, catching a different angle on things. In this second peek, you can catch a glimpse of one of the other home improvements from this year.
Last year my aunt, Mette Breminer - a very experienced miniaturist who writes for Dolls House and Miniature Scene magazine - came and did lots of wonderful fine fabric work for the houses - bed linen, cushions and so forth.
(Neither Cestina nor I get on well with fabric.)
Mette made all the beautiful bedding in this house and the lovely blue cushions in the living room but, as she had only a few days in CZ, she took the curtain fabric away to make those at home.
This year, I had the relatively easy job of putting up her beautiful curtains... the lovely blue ones in both of the bedrooms...
Elegant cream ones in the dining room...
And the same in the large open living area where there are lots of windows.
The ones at the far end are at full arms' reach, so it was another stick-it-and-hope affair. I couldn't actually see what I was doing once I had both arms in there, so it was all by feel!
But the major drawback for the inhabitants of this house for the last year has been the lack of a bathroom!
As you can see from this photo from last May, I decorated the room, but there were no suitable bathroom suites amongst the stash without quite a lot of work, and there just wasn't time for that then.
Time for a scrabble through the accumulated hoard of 40 years or more... to come up with this very unpromising selection.
In the end it wasn't this bath that I used, but a ceramic one with rather sickly violets all over it... forgot to get a "before" of that, I'm afraid.
It takes quite a lot of work to get good coverage over plastic.
After a couple of coats of gesso, I used DecoArt's Chalk Paint in Serenity, and gave that a coat of varnish to try to get a ceramic look.
And I hope you'll understand why I'm pretty proud of the end result!
The large shower head (it's a memory I treasure from our house exchange holiday in 1980 - the amazing showers in the States!) is made from the internal filter from a full size tap. (Anyone who's had to replace one will recognise it!)
The taps and pipes were mostly salvaged from leftovers from bathroom kits already in use elsewhere.
All the brass fixtures are painted in a mixture of DecoArt Worn Penny and Ten Seconds Studio Verday Brass so that they all match.
Some of the plumbing is just the bits of plastic from
between
the bits you're meant to use out of the kit!
And I remembered to add a handle to flush the loo...
There's obviously still loads to be added in this house in terms of the soft bits of living - where are the books? The magazines? The ornaments? The kitchen's in pretty good nick (but I don't seem to have taken a photo of that), but the rest of the house needs more. But I did get around to hanging up a few posters.
Clearly the inhabitants are regular visitors to the Metropolitan Museum of Art in New York. (All these were cut from one of their catalogues, and mounted behind clear acetate to replicate those big glass frames you get.) If you spotted the bedroom wallpaper, you'll see why it had to be an iris in the bathroom!
A quick dip into some altered furniture now - for the bedsits in the Finchley Road house. I completely revamped the exterior of this house last year, and Cestina will be sharing her work on the interior very soon over on her blog. So I'll leave her to explain whose furniture this is.
(The yellow tea set from the last post belongs to the same person!)
Suffice it to say I had lots of fun with the DecoArt Chalk Paints again - they're just as good for shabby chic miniature furniture as they are for the full-size stuff. (Click on the photos for a full-size view!)
These have been done with a combination of two greens, Vintage and Enchanted, with a touch of Everlasting for extra shabbiness. I think they look better now!
In addition to the Cape Cod windows, there was some more window work required of me this year. This is for a house that's still a work in progress... hopefully Cestina will be making some of that progress over the summer (in between showing visitors around the museum).
It's a large Triang house, which is to become a village tearoom and post-office. At the moment, we're still tackling the exterior.
We're modelling it after this rather beautiful house, found on a Google search... and my main task for it this time around was to create the leaded windows.
Cestina was in charge of making the "oak" window frames, and I cut some acetate sheeting to size.
I used a dimensional pearl pen and, having drawn a grid on paper, proceeded to painstakingly lattice my way across all the acetate. Had to do it in one direction first and let that dry...
... and then finish off in the other direction.
They had to sit safely out of the way until they were set... I wasn't doing any blinking extras - stressful task, trying to keep those lines straight, and irritatingly hard to achieve perfection!
Then it was my job to assemble the frames and windows and glue them all in place (Cestina doesn't like using the hot glue gun.) In the end though, it was worth it for the effect I think. Even though they're not perfect...
There are embossed panels (run through the BigShot) and some wood carvings to create the effect of the pargeting, which I think works quite well.
The beautiful bay window is not yet attached, and Cestina has the inside to tackle - but I think in the long run it's going to look pretty good.
Here's another window (ish) task completed for one of Cestina's projects.
She'd made some shutters for the house she was working on (out of very fine corrugated cardboard - no surprise to the regulars that that was my suggestion! - and strips of fine wood), and she wanted a weathered coppery effect for them.
I started out with a similar method to that used on the roof of the
Opera Singer's House
- painting the shutters with teals and greens, and then dry-brushing DecoArt Worn Penny over the top.
But it wasn't quite weathered enough, so I decided to dip into the magical Ten Seconds Studio Verday paint!
It really is amazing stuff. It comes in Iron, Brass, Bronze and Copper, and with a Patina solution for altering them.
This is obviously the Copper.
You put on one coat (giving you a fabulous brand new copper look - sorry, no photos of that); let it dry for at least an hour; then apply a second coat and while that is still wet you spray it with the Patina solution and leave it to work.
One really cool thing is that the second coat doesn't have to be of the same metal. This is copper + copper, but you could do copper and then bronze as the second coat, or iron + brass - meaning you have endless decaying possibilities.
(If you remember the ancient shields in one of the Tudor bedrooms, they had lots of different layers as I just played and experimented!)
And here they are in situ on the house.
I'm also responsible for all those vines clambering over the walls (again, Cestina and the hot glue gun, not a good mix)...
... as well as for the lintel over the door - created to match the ones already in place over the windows - and the sponging around the bottom of the house, just breaking up that bland cream a bit.
(Oh - and I trained some ivy up the wall of the old thatched house while I was at it too!)
You can find out more about the inspiration for this "old house in Paris that was covered with vines" (I'll be impressed if you know that one... and if you do, you'll have just a hint of what's inside!), as well as seeing the fabulous transformation of the interior over at
Cestina's Dollshouses
very soon.
In the background of the photo above you can catch a glimpse of one of last year's major overhauls - the Colonial Bungalow.
For the full transformation, you'll need to go back to last year's post, but you may remember that our poor young chap had left England to take up a diplomatic posting after a broken engagement (whether in Africa or India was still subject to some debate between me and Cestina... me for Africa (under the influence of Out of Africa), her for India (under the influence of Kipling)).
It turns out (as the story developed this year) that he wasn't spurned by his love after all, but rather that her father put an end to the connection before it ever got as far as them being engaged, disapproving of the young man's antecedents, and doubtful of his ever making anything of himself.
So our young bachelor is out to prove his worth by making a success of his first posting for the Foreign Office.
Last year he was still awaiting the shipment of some of his belongings, but the place is looking a little more lived in now.
Here in the office, for instance, where he meets with local officials and dignitaries, he now has some maps up on the wall.
I made the frames out of tiny strips of wood, and the maps themselves are cut from a dollshouse magazine.
(I'm not quite sure what use a map of Hampshire is to him out here in the heat of Africa (India?), but there you go.)
I painted my frames black so that they would match these family photographs, also now arrived from England.
(In fact, they were liberated from the Playmobil dollshouse owned by my niece. It's okay, she still has some - there were plenty to go around).
They're clearly keeping him busy. Lots of letters are awaiting his attention on the portable writing desk - so useful when he has to make visits to outlying towns and villages.
(I didn't make the writing desk, but I did write the letters!)
He must have been relieved that his collection of prints and engravings survived the voyage without damage.
They now adorn the walls of the drawing room.
(More handmade frames, and dollshouse magazine cut-outs.)
In the end, it was simplest to stick the pictures onto card, and then stick the frames around them, and then cut the whole lot out.
You'll notice a proud new acquisition over the fireplace too... our young man hasn't been idle in his leisure time here.
(The elephant head was picked up by Cestina in a charity shop for a matter of pennies... I think it may have been mounted on a pencil sharpener or some such thing. It just needed some sawing and a bit of gilding on the shield to render it fit for display.)
And, most precious of all the arrivals from England, some photographs of his loved one.
There's one in the hall...
... and then another on the new piece of furniture in his bedroom (shipped out in the same container).
These are framed with the same delicate strips of wood, painted black.
This cabinet, incidentally, started out exactly the same as the shabby, chalky green one above (they're available at The Range).
This time the plain wood finish has been turned to walnut, with gilded handles.
I chopped the legs off, as otherwise it was too tall for the splendid mirror which was actually the thing we really wanted to add to the bedroom!
(Obsessive) Idea-ology fans may have spotted that the glass in the photo frames is actually made from some of the Idea-ology packaging... perfect for the purpose.
The silver fox in the Opera Singer's House is also housed in one of these little rectangles, and then framed.
Oh, and there's a letter from her too - saying that they've been hearing great things about his progress, and that she's sure her father will soon relent when he sees the true worth of the fine young man she's set her heart on.
I found that there had been some shenanigans going on in the kitchen since I was last here...
There's a dangerous intruder - being very ineffectively dealt with by the resident mongoose -
Rikki Tikki Tavi
, anyone?
Okay, so Cestina reckons that, because Kipling's story is set in India, this means we're definitely in India. But (a) she freely admits that this is a meerkat, not a mongoose; (b) there are mongooses (mongeese?) in Africa; and moreover (c) the meerkat is a sort of mongoose and they live only in Africa.
So I'm afraid Cestina is hoist with her own petard (she put the snake and the meerkat in the kitchen to start with). We are in Africa, and I win!!
I'll leave you with just a little taster of delights to come at Small Worlds... another work in progress - our 1920(ish) department store.
Cestina was working like a demon on papering and flooring, as well as constructing the shop windows from scratch - I'll leave her to tell you how much swearing they incurred!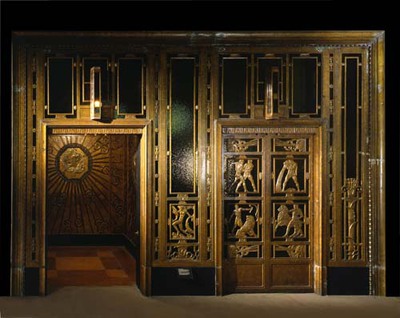 Her challenge to me was to create a glamorous lift to run through the centre of the store. She had these ones from the original Selfridge's fit-out in mind (they're now in the Museum of London).
Jeepers! All that opulent gilding is really not my bag, but I grudgingly agreed to give it a go.
The lift shaft was being cut to accommodate a fairly unassuming wooden box that was hanging around. So with the help of some gold mirror card, black enamel paint, some stickers, plenty of Treasure Gold Liquid Leaf in Florentine and, yes, some Frameworks die-cuts, this is what I did to that wooden box!
Rather than those gilded doors, ours is a somewhat less grand affair, with those black cage doors that concertina open and closed.
The Frameworks were cut from thick card and given a good coat of black enamel paint, as was the outside of the box.
It's definitely opulent on the inside though...
Even the buttons you push to go up and down are mirror plated.
They're made from some tiny mirror gems, stuck onto some gilded cardboard, mounted on black enamel-painted card.
Of course, we needed a lift cage, so I spent some time snipping away at garden chicken wire to cut it to size, and then persuading it into shape.
To convert it from dull chicken wire, it's had a good coat of Florentine Liquid Leaf too. And I painted some twisted wire braid with dark burgundy nail polish to create the velvet swag ropes which will - I hope - prevent customers from plunging down the lift shaft!
It's actually three separate cages, one on each floor, but I think the illusion of a continuous lift shaft works pretty well.
Downstairs, you'll see that the fitting out of the shop has already begun. There are many mirrors, to create lots of light and glamour.
Yup - the Tim Holtz Cabinet Card die has been in action, and I've also been re-gilding lots of other mirrors, plastic and metal, so that they all have a similar finish.
I didn't think we were going to get much done on this one... but as a result of a great deal of lightning-speed effort in the last few days in CZ, it's now mainly a matter of the fun stuff - filling it and bringing it to life.
There will be more shelves and cabinets, filled with stock, and all those glass cases collected over decades will eventually be filled with enticing goods for purchase.
But I think you can get a good idea of where it's headed... Keep an eye on developments over at
Cestina's Dollshouses
to see how it all turns out!
UPDATE - Visit Gosthwaites of Aberystwyth now at Cestina's Dollshouses, Part 1 and Part 2.
Thank you so much for your lovely feedback on this dollshouse detour. I've had fun sharing how I've been deploying my crafting skills and products in a different context. I hope you've enjoyed this final gallimaufry. You can see why I said it wouldn't all fit in one post!!
We'll be back to regular crafty activities this weekend, but there's

a big celebration

to come first here at Words and Pictures... keep your eyes peeled!
So now they have made our English tongue a gallimaufry or hodgepodge of all other speeches.
Edmund Spenser